Fibromyalgia is a common chronic pain condition. Fibromyalgia affects an estimated 10 million people in the U.S. and an estimated 3-6% of the world population. It is most prevalent in women —75-90 percent of people who have Fibromyalgia are women —it also occurs in men and children of all ethnic groups.
The average age range for a fibromyalgia diagnosis is 35 to 45 years old, but most people have symptoms, including chronic pain, that started years earlier.
Fibromyalgia causes muscle pain and fatigue (feeling tired). If you have fibromyalgia, you have pain and tenderness throughout your body. Sometimes you may have two or more chronic pain symptoms at the same time, such as:
Chronic fatigue
Endometriosis
Cognitive difficulties
Irritable bowel
Interstitial cystitis.
Temporomandibular joint dysfunction (TMJ).
Vulvodynia
Fibromyalgia has historically been characterized as pain with no known cause, except genetic—and its treatment has focused only on relieving pain symptoms, resulting in mixed outcome results.
Dr. Rakesh Jain points to research that shows fibromyalgia is caused by a "true bio-pyschosocial trauma, such as fear showing up as extreme tension due to stress, depression, anxiety, and sleep problems.  Dr. Jain shared his views on the subject with other mental health professionals during a Meet the Experts session entitled "The Interrelationship of Fibromyalgia with Psychiatric Disorders " held during the 24th Annual U.S. Psychiatric and Mental Health Congress (2011 Psych Congress) on November 8, 2011.
Louise Hay, You Can Heal Your Body reports Fibromyalgia is fear showing up as extreme tension due to stress.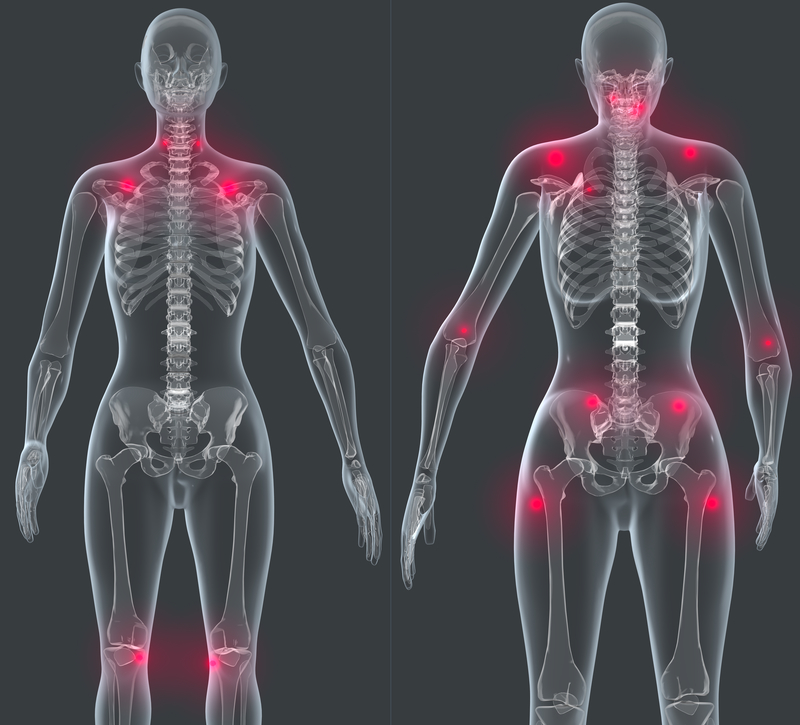 Holistic Health Care has offered Mental/Emotional and Physical healing for Fibromyalgia with significant results since 1880 when a psychiatrist in the United States wrote about a group of symptoms including, widespread  pain, fatigue and psychological problems. He called it neurasthenia and believed it to be the result of stress. Next in 1904, Sir William Gowers introduced the term fibrositis.
As stated the cause of people's symptoms, distress, mental/emotional dysfunction are the result of mental/ emotional, physical stress/trauma experiences that weren't addressed then and are now coming to the surface as mental/emotional and/or physical symptoms.
The cause of all distress symptoms can be discovered and healed at the cellular and soul level. It is the most efficient and effective protocol to regain your life.
When someone comes to me, no matter how dire their predicament seems to be, I KNOW if she/he is WILLING to do the mental/emotional discovery work; releasing and forgiving, anything can be healed. The word 'incurable' or 'impossible' only means that the particular condition, symptom or diagnoses cannot be 'cured' by 'outer' methods and that she/he needs to GO WITHIN to effect the healing. The condition, symptom or diagnoses came from mental/emotional distress and will go back to nothing.
When beliefs, thoughts, feelings and behavior are accessed and addressed at the unconscious level, the 'cause' of any and all symptoms and behavior become crystal clear–it is mental/emotional, physical, and spiritual trauma/distress manifesting in the behavior and symptoms you experience.
A Deep Healing process is a clear, concise and direct method of transforming the mental, emotional and physical symptoms that transcends traditional protocols while retaining a professional focus. Deep Healing avoids prescription and OTC drugs, body parts removed, artificial hypnotic inductions and psychic interventions. The process ties in directly with the experiences and needs of the person. The process is down-to-earth, to-the-point, practical, fearless and with 30+ years experience and centuries of holistic health care protocol success I know there is no doubt Deep Healing is effective.
Get all your unnecessary emotional baggage transmuted at the unconscious level and instantly experience higher vibrations of love and peace.Discover how traumas and emotional wounds… even the tiniest negative experiences that you had forgotten about… are robbing you of your happy, fulfilling future that you're meant to live. (You won't believe how much power you're giving away to these invisible forces.)
Uncover the reason(s) the traditional coping with traumas are not only bad but they're dangerous. (If you suffer from any kind of anxiety, depression, PTSD issues healing at the unconscious level is powerful and empowering. Afraid of your past? Discover ways to clear painful memories without reliving it or telling anyone about it. (This is the miracle road to peace that your soul was longing for, for years.)
Clearing your traumas and emotional wounds at the unconscious level is the first step to discovering the gifts you're meant to have in this life. (It's like one of those tiny levers that swing open giant doors.)Wellness is the state of being fully alive with a sense of attainment; responding appropriately instead of reacting to life and circumstances.
Health and Wellness:
Mental/Emotional and physical health and Wellness is the act of remaining calm and focused while working things out with respect and unconditional intent to find a solution. Ultimately your personal character; personal strength and courage will evolve. To attain wellness requires you to make healthy choices in nutrition, relationships, social contact, work and leisure activities.                             
Healing Is Possible:
I am here only to be truly helpful. I offer a 20-minute FREE no obligation conversation to answer your questions and explain how the process works. I work face-to-face, phone, Skype, Google Hangout or Facebook video.  I look forward to speaking with you.
About Dr. Dorothy:
Dorothy M. Neddermeyer, Ph.D Metaphysican and International Best Selling Author is a recognized authority on bridging Science and Human Potential. Dr. Dorothy provides comprehensive protocols to discover and transform the root cause for issues and diagnoses. Mental, Emotional, Physical and Spiritual Transformation combines creating health while healing past mental, emotional, and physical distress.
Source:
http://www.fmaware.org/about-fibromyalgia/prevalence/
https://www.womenshealth.gov/a-z-topics/fibromyalgia
 Rakesh Jain, MD, MPH, Assistant Clinical Professor – Department of Psychiatry Texas Tech University Health Sciences Center Medical School Midland, TX
http://legacy.lclark.edu/~sherrons/history.htm
http://www.livingwithfm.com/resources/The_History_of_Fibromyalgia.pdf
http://link.springer.com/article/10.1007%2Fs11916-996-0010-6#page-1
ccs01.vo.ca-cncx.net/o41/5507/bw/bs/FPCR20080012/articles/LA11FM.pdf